We may be compensated for your purchase of any of the products featured on this page – it helps us keep the lights on :)
Using Spin Buttons in Excel will instantly make your spreadsheet interactive and help it look more professional. Let's take a look at how you can add an Excel Spin Button to your sheets.
What is an Excel Spin Button?
An Excel Spin Button is a button made up of an up arrow and a down arrow. Each time you click an arrow, a value will increase or decrease by a certain amount.
In other words, when you click the up arrow, the value increases. Click the down arrow and the value decreases.
How to Insert a Spin Button in Excel
To insert a Spin Button in your Excel spreadsheet, you will need to access it from the Developer tab in your ribbon.
It will be found in the Controls section. Click on "Insert" and look for the Spin Button under Form Controls.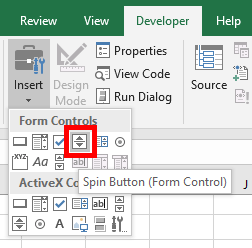 Then, using your cursor, draw it out where you'd like to place it on your spreadsheet.
You can also hold down the Alt key while you drag it to your spreadsheet so that the Spin Button snaps into a cell.
Spin Button Settings
Next, you need to input the instructions for how your Spin Button will work. To do this, right-click on your Spin Button and select Format Control.
Let's look at our example (image above) of creating a Spin Button to scroll through years between 2010 and 2018. Here are the settings I used:

Current Value: This is the value that will display when you first see the Spin Button, before the arrows have been used.
Minimum Value: This is the lowest value that clicking the down arrow will go to. In this example, this is 2010.
Maximum Value: This is the highest value that clicking the up arrow will go to. In this example, this is 2018.
Incremental Change: This is the quantity that each click of the arrow will change the year by. In this example, I've used 1. For instance, in this scenario, each click of the up arrow will increase the value by 1 year, with the highest year being 2018.
Cell link: The Spin Button will need to be linked to a cell. The cell that is linked to will be affected by each click of the Spin Button. In this example, the year will be displayed in cell B2. Therefore, that is the cell I've linked the Spin Button to.
For more, take a look at how we used a Spin Button to Filter a Chart by the year.