We may be compensated for your purchase of any of the products featured on this page – it helps us keep the lights on :)
Angle cells in Excel to make your spreadsheet more visually interesting. Using diagonal headers can also look more professional.
Here are a couple of ways to angle cells in Excel:
Click to Watch: Excel tutorial on how to angle cells in Excel
1. Use the Format Cell Alignment to Angle Cell Contents
You can angle or rotate cells in your spreadsheet by selecting the cell(s) that you want to rotate the text for, then:
Right-click and select "Format Cells"
Go to the "Alignment" tab
In the "Orientation" box, move the guide to the angle you'd like to rotate the text to
You can also type the degree of the rotation in the "Degrees" field box if you know what you'd like it to be.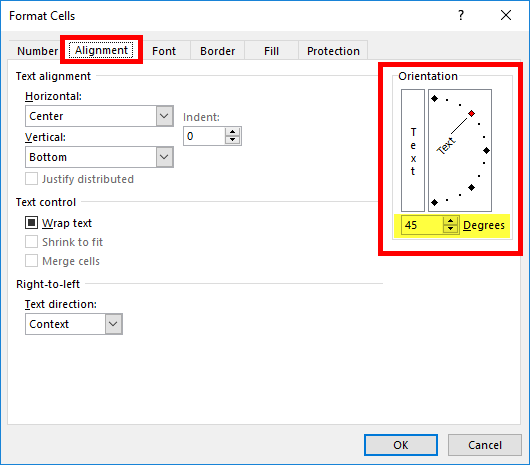 Click OK.
2. Rotate Cell Content by Using the Orientation Shortcut in the Ribbon
An even easier way to angle cells in Excel can be found in the Home tab, in the Alignment section.

Click on the icon with the diagonal "ab" (this is the Orientation shortcut) and choose one of the preset formats or click on "Format Cell Alignment", which takes you back to the first option we looked at.

Rotated text can then be formatted with colors, shading, fonts, borders, etc just like other text in your spreadsheet!
---